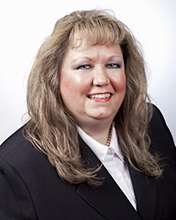 Heidi is the founding member of Lund CPA and Consulting Services, PLC and has been working in public accounting for 30 years.
Heidi earned a Masters of Science in Finance with a specialization in corporate finance and financial services from Walsh College. She earned a Bachelor of Business Administration with a major in Accounting from the University of Michigan – Flint. She also attended undergraduate studies at Charles Stewart Mott Community College in Flint, Michigan and holds two undergraduate degrees.
Industry experience includes medical and dental practices, medical labs, real estate brokerage, construction, service professionals, car wash, retail, insurance agencies, property management for residential, commercial, and condominium properties, and other service industries.
Her experience in business valuation, budgeting, job cost, tax planning, and multi-state tax operations, provides a range of expertise in various business consulting areas.
Heidi is a member of the American Institute of Certified Public Accountants (AICPA), the AICPA Tax Section, the AICPA Forensic and Valuation Services Section, the Michigan Association of Certified Public Accountants (MICPA) and the Troy Chamber of Commerce. Heidi has served as a board member and Treasurer of several private organizations. The firm participates in the AICPA Peer Review Program and has received its highest level of award.